In today's digital age, dropshipping has become a popular business model that allows entrepreneurs to sell products without holding any inventory. Simultaneously, online advertising platforms like Facebook have revolutionized the way businesses reach their target audience. In this article, we will explore the intersection of dropshipping and Facebook ads, highlighting the benefits, strategies, and challenges of utilizing Facebook ads for dropshipping success.
The Benefits of Using Facebook Ads for Dropshipping
Facebook ads offer several advantages when it comes to promoting your dropshipping business effectively. Let's delve into the key benefits:
1. Targeted Advertising
One of the greatest strengths of Facebook ads is their ability to target specific audiences. Through advanced targeting options, you can narrow down your audience based on demographics, interests, behaviors, and more. This precision allows you to reach potential customers who are more likely to be interested in your products, increasing the chances of conversion.
2. Cost-Effective Marketing
Compared to traditional advertising methods, Facebook ads offer cost-effective marketing solutions for dropshippers. You have control over your budget, and you can start with a modest investment. Additionally, Facebook's algorithm optimizes ad delivery, ensuring that your ads are shown to the most relevant users within your budget.
3. Increased Brand Awareness
Facebook has a massive user base, making it an ideal platform for building brand awareness. By leveraging Facebook ads, you can showcase your products to a wide audience, even if they are not actively searching for them. Consistent exposure to your brand through eye-catching creatives can help establish brand recognition and familiarity.
4. Flexible Budgeting
Facebook ads provide flexibility when it comes to budgeting. Whether you're a small business or an established enterprise, you can allocate your advertising budget according to your resources and goals. With the ability to set daily or lifetime budgets, you have full control over your spending, allowing you to scale or adjust your campaigns as needed.
Setting Up Facebook Ads for Your Dropshipping Business
To tap into the potential of Facebook ads for your dropshipping business, you need to follow a systematic approach:
1. Creating a Facebook Business Manager Account
Begin by creating a Facebook Business Manager account, which serves as a central hub for managing your ad campaigns, pages, and other assets. This account allows you to separate your personal profile from your business activities and grants access to valuable marketing tools.
2. Defining Your Target Audience
Before launching your ad campaigns, it's crucial to define your target audience. Research and analyze the demographics, interests, and behaviors of your potential customers. By understanding their preferences, you can tailor your ads to resonate with their needs, maximizing the effectiveness of your marketing efforts.
3. Designing Compelling Ad Creatives
Captivating ad creatives are essential for grabbing your audience's attention and enticing them to take action. Invest time and effort into designing visually appealing and engaging ads that align with your brand's identity. Incorporate persuasive copy, high-quality images, and clear calls-to-action to drive conversions.
4. Setting Up Ad Campaigns and Ad Sets
In the Facebook Ads Manager, you can create ad campaigns and ad sets. Organize your campaigns based on specific objectives, such as increasing website traffic, generating leads, or driving sales. Within each campaign, set up ad sets that target distinct audience segments, allowing you to test different strategies and optimize your results.
Optimizing Your Facebook Ads for Dropshipping Success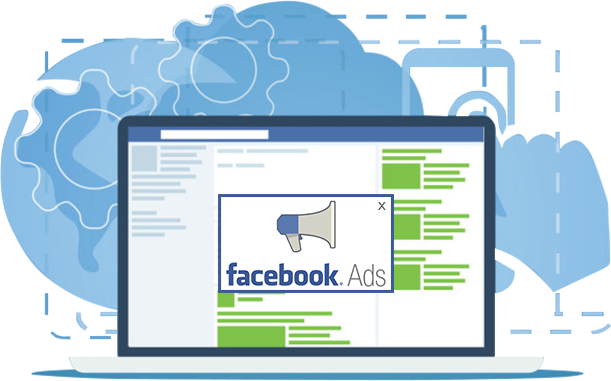 To achieve long-term success with Facebook ads for your dropshipping business, it's crucial to continuously optimize your campaigns. Here are some key optimization strategies:
2. Analyzing and Adjusting Ad Performance
Regularly monitor the performance of your ads and analyze the metrics provided by Facebook Ads Manager. Pay attention to important metrics such as click-through rates, conversion rates, and return on ad spend. Identify underperforming ads and make data-driven adjustments to improve their effectiveness.
3. Retargeting Your Audience
Retargeting is a powerful technique that involves reaching out to users who have previously interacted with your brand but haven't made a purchase. By displaying tailored ads to these potential customers, you can remind them of your products and encourage them to complete their purchase. Set up retargeting campaigns using Facebook's Custom Audiences feature.
4. Monitoring and Scaling Your Ad Campaigns
Consistently monitor the performance of your ad campaigns and scale them based on positive results. Increase your ad spend gradually while ensuring that your return on investment remains favorable. Continually optimize your targeting, ad creatives, and budget allocation to maximize your campaign's impact.
Common Challenges and How to Overcome Them
While Facebook ads can be highly effective for dropshipping, it's important to be aware of common challenges and have strategies to overcome them:
1. Ad Fatigue
Ad fatigue occurs when your audience becomes tired or unresponsive to your ads due to repeated exposure. Combat ad fatigue by regularly refreshing your ad creatives, testing new visuals and copy, and diversifying your targeting options. Keep your ads relevant and engaging to maintain audience interest.
2. High Competition
As Facebook ads continue to gain popularity, competition for ad space intensifies. To stand out from the crowd, focus on niche targeting, unique selling propositions, and compelling ad creatives. Find creative ways to differentiate your products and convey their value to potential customers effectively.
3. Ad Approval Issues
Facebook has strict guidelines for ad content and can reject ads that violate their policies. Ensure your ad creatives comply with these guidelines, including restrictions on prohibited content, excessive text, and deceptive practices. Review Facebook's ad policies and make any necessary adjustments to avoid approval issues.
4. Ad Account Restrictions
In some cases, Facebook may impose temporary or permanent restrictions on ad accounts. These restrictions can occur due to policy violations, suspicious activity, or other factors. To avoid such issues, maintain transparency and adhere to Facebook's advertising guidelines. If you encounter account restrictions, follow Facebook's appeal process to rectify the situation.
Conclusion
Integrating Facebook ads into your dropshipping business can be a game-changer, enabling targeted marketing, cost-effective campaigns, increased brand awareness, and flexible budgeting. By setting up your Facebook Business Manager account, defining your target audience, designing compelling ad creatives, and continuously optimizing your campaigns, you can unlock the full potential of Facebook ads for dropshipping success.
FAQs
1. What is the average cost of running Facebook ads for dropshipping?
The cost of running Facebook ads for dropshipping varies depending on several factors, such as your target audience, ad objectives, and industry competitiveness. It's essential to set a budget that aligns with your business goals and regularly monitor your ad performance to ensure optimal return on investment.
2. Can I use Facebook ads for dropshipping if I have a limited budget?
Yes, Facebook ads can be effective for dropshipping even with a limited budget. With careful targeting, compelling ad creatives, and ongoing optimization, you can make the most of your budget and reach a relevant audience. Start with a modest budget and gradually increase it as you see positive results.
3. How can I make my Facebook ads more engaging and effective?
To make your Facebook ads more engaging and effective, focus on the following:
Use eye-catching visuals and compelling copy.
Highlight the benefits and unique selling propositions of your products.
Incorporate clear calls-to-action that encourage users to take action.
Test different variations of your ads to identify the most effective elements.
Continuously analyze your ad performance and make data-driven adjustments.
4. What are some alternatives to Facebook ads for promoting my dropshipping business?
While Facebook ads are highly effective, there are alternative advertising channels you can explore to promote your dropshipping business. Some popular options include Google Ads, Instagram Ads, influencer marketing, email marketing, and search engine optimization (SEO). It's worth experimenting with different platforms to find the optimal mix for your business.
5. Is it possible to achieve dropshipping success solely through Facebook ads?
While Facebook ads can significantly contribute to dropshipping success, relying solely on them may not be ideal. Diversifying your marketing efforts across multiple channels can help you reach a broader audience and reduce reliance on a single platform. Consider combining Facebook ads with other strategies such as content marketing, social media engagement, and customer referral programs for a well-rounded approach.